The Other Side of Silence - Westminster Abbey's Cheyneygates -
The Priest Painter, Canon Robert Wright, one of London's busiest Anglican clergymen exhibited 30 of his powerful iconic and spiritual paintings in a new exhibition entitled "The Other Side of Silence" at Westminster Abbey's Cheyneygates.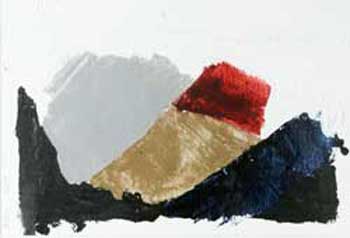 By faith Abraham went out
© Robert Wright
Self-taught, Robert Wright has been painting and selling his work seriously since 1998 with a steady demand for his pictures which tyically cost between £250 and £1500.
The theme of the present exhibition is "The Other Side of Silence". Robert explains, "I am trying to explore some of the deep things in life which we find when we get besieged and under pressure. In my paintings I want to get beyond symbolism to approach people's deeper feelings such as joy, sadness, energy, a sense of possibility and perhaps most of all, stillness. I have been greatly influenced by the work of the American monk, Thomas Merton, for example one of his remarkably thought provoking sentences, "Our real journey in life is interior.". I always aim to have my paintings reflect this. Painting is an extraordinarily valuable medium which helps us to understand what it is to be human."
Over the years Robert Wright has developed a considerable interest in interfaith projects and a number of his pictures have found their way into premises of other religions. Mark Winer, former Senior Rabbi of the West London Synagogue has commented, "The art of Robert Wright reflects the spirituality and sensitivity of a uniquely modern yet deeply traditional man." The American writer, poet and theologian, Bonnie Thurston, says: "Robert Wright's profound and powerful paintings speak to our complex modern society."
---